Frequently Asked Questions
Do you only do wedding and special event cakes? How about cupcakes?
Absolutely – who doesn't love cupcakes? A perfect, tiny cake – one for each plate. Depending on the decoration and filling, cupcakes start at $3.50 per serving.
What happens at the cake consultation?
We'll sit down, look at a portfolio of design options, and we'll discuss your dream cake. We'll also discuss cake flavors, along with any specific color options for your event. If a tasting is required, we will schedule it at that time. And there's no charge for consultations or tastings!
I'm so busy during the day- how flexible are you with setting a time for scheduling?
We're very flexible! We can meet Monday through Saturday, at any time between 10 am and 4 pm. Give us a call at (856) 287-7110 to set up a time that works for you.
How much do your cakes cost?
The overall price depends on many factors- ingredients, number of tiers, tier sizes, customized designs. We'll go over your needs during our consultation and give you a specific cost. Occasionally, we will run a special on tiered cakes. Ask if we have any current promotions running!
We're having a themed event – can you make a cake that will fit our theme?
Definitely! Our cakes are designed to enhance the event for which they're created! We'll come up with a customized design, incorporating the colors and patterns of your special day. We encourage you to bring any design ideas or inspirations to the consultation. From fabric swatches to invitations, these details make the day truly yours! We look forward to making your dream cake a reality.
We're having a small, intimate event, but still want a cake that WOWS! Is there a minimum order?
We have no minimum orders! All event cakes are priced per project.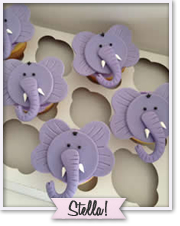 We're getting married in August- raspberry season! Can you incorporate our favorite fruit?
Of course! We love working with the freshest fruit of the season. We'll incorporate berries into your wedding cake's unique design, or add them to any filling. Liqueur can be added to the cake or filling for an additional charge.
My bride adores peonies. Can you decorate our wedding cake with them?
We're happy to add safe, unsprayed flowers of your choice to the decorations. We can supply the flowers, or we can coordinate with your florist. During our consultation, be sure to ask about hand-crafted sugar or chocolate flowers – an artistic, as well as romantic addition.
We're getting married in July and need to serve 400 guests. Can we be sure you're available for our date?
We take reservations on a first come, first-served basis. Simply make a 50% deposit to secure the date. This deposit is refundable up to two months before the date, after that there will be no refund.
My fiancé & I can't decide between Red Velvet cake and Chocolate cake. When do we have to let you know our final choice?
Both are delicious – may this be your marriage's most challenging decision. Actually you can both have your cake and eat it, too. Each tier can have a different flavor, or you can combine flavors in one tier. We'll just need your final flavor and design details two weeks prior to the event.
How much advance notice do you require?
It depends on the occasion! Wedding cakes, with all their elaborate glory, usually require three months notice. A special occasion cake, however, can be set up with 2 week's time. Just be aware that we limit the number of events in a weekend in order to give each project the attention it deserves.
Where do you deliver?
We'll go anywhere in the southern New Jersey area, with most areas at no delivery charge. For those who might be farther away, no worries! We'll still deliver your cake! Delivery fees start at a reasonable $35 and are determined according to the distance, time and set up requirements.
Grandma's turning 80 next month- can you whip up something Chocolate?
We can create a special occasion cake for any celebration! Whether it's baby's first birthday cake or just a cake to celebrate the fact that it's Friday, our designs make each occasion unique and special. Contact us today for your next special, or even not so special event!
What types of payment do you accept?
We accept checks or cash, but no credit cards. Also, final payment is due two weeks prior to the event, unless we agree on some other arrangement.
Our Location
160 Delsea Drive
Washington Twp., NJ 08080
(856) 287-7110
BY APPOINTMENT ONLY
(Next To Lamp & Shade Works)
Click for Directions
Do you need a cake for your event?