We're here to create THE perfect cake for your special event.  Perfect flavors along with perfect decor equals a perfect cake.  If you are in the New Jersey or Philadelphia areas and like what you see, please feel free to contact us.

Vanilla Butter
Chocolate
Red Velvet
Confetti- Vanilla Cake with Rainbow Sprinkles
Chocolate Chip
Coconut
Almond
Lemon
Strawberry
Banana
Carrot
Pumpkin Spice (seasonal)

Kahlua – Coffee
Chambord – Raspberry
Frangelico – Hazelnut
Grand Marnier – Orange
Amaretto – Almond
Myers – Rum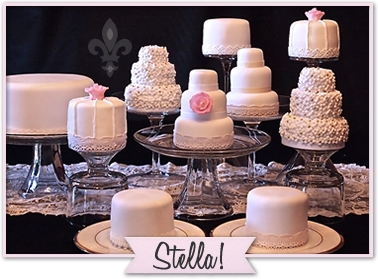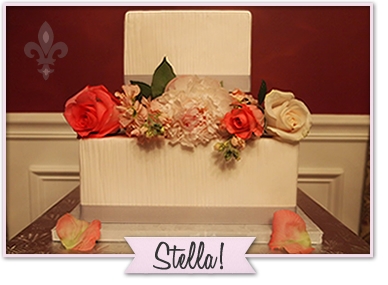 Vanilla Buttercream
Vanilla Bean Buttercream
Wedding Buttercream (Almond, Lemon, Vanilla)
Banana Buttercream
Cream Cheese Buttercream
Coconut Buttercream
Strawberry Buttercream
Chocolate Buttercream*
Mocha Buttercream*
White Chocolate Buttercream*
Peanut Butter Buttercream*
Raspberry Preserve*
Strawberry Preserve*
Apple (seasonal)*
Blueberry Preserve (seasonal)*
Pineapple Preserve*
Lemon Curd*
Crushed Praline *
Salted Caramel*
Tahitian Caramel*
Cannoli*
*Denotes Specialty Fillings

The following flavor combinations are simply suggestions. Feel free to be creative and come up with your own flavor concoctions! When it comes to cake, there are no rules!
Wedding Classic – White Cake with Raspberry Preserve, Lemon Curd, and Wedding Buttercream
Tahitian Caramel – Vanilla Butter Cake with Tahitian Caramel, and Vanilla Buttercream
The Amelia – Vanilla Butter Cake with Praline, and Vanilla Buttercream
Chocolate Raspberry – Chocolate Cake with Raspberry Preserve, and Chocolate Buttercream